Bed & Breakfast Op den Buiten is centrally located in a quiet environment
Charming rooms | Extensive breakfast | Own terrace | Free Wifi | Free parking
Our room names are named after garden tools in the dialect

Relax on your own terrace
Every stay has a private terrace

There is plenty to discover here!
From nature to culinary enjoyment
We have converted the old stables into a cozy and intimate guest house
with attractively furnished bedrooms, bathrooms, breakfast room with use of microwave and fridge and lounge area.
All our rooms are on the ground floor with access to the garden / terrace with views over the meadows.
Our B & B can be found in Nieuwe Molen, between the villages Koewacht and Axel in Zeeuws Vlaanderen, Zeeland. Popular cycling and walking routes are close to our beautiful home.
We are located approximately 12 km from Terneuzen and the historical town of Hulst, and also in convienient distance to visit the islands of Zeeland, the North Sea coast and Belgium with cities such as: Antwerp, Ghent, Brussels, Knokke or Bruges.
Centrally located in East Zeelandic-Flanders
Unwind in a rural setting. Culinary delights, history and nature are within reach.
Are you on your way to a work appointment, holiday in the UK or southern Europe?
Take a break and enjoy a good night's sleep and wake up with a luxury breakfast... we're a 10 minutes drive from the N 61/62 (in NL ) and E 34 (B).
In short; Enjoy, Experience and Sleep ... Op den Buiten!
Looking forward to seeing you
Annick de Bakker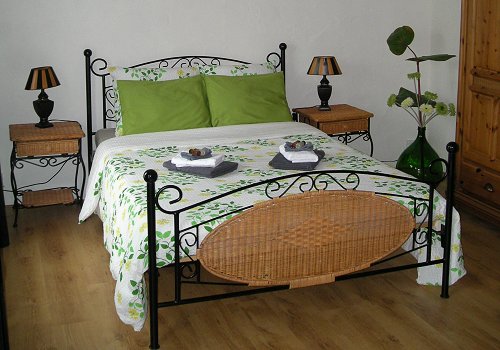 Attractive, spacious room with double bed, washbasin and seating
Charming, smaller bedroom with 2 single beds and sink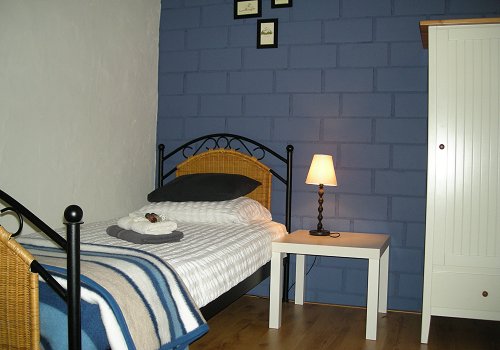 Charming, smaller bedroom with 1 single bed and sink